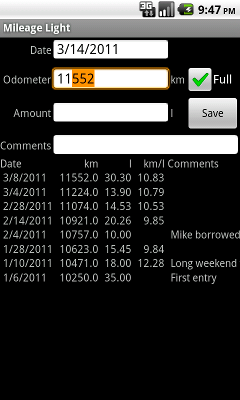 Mileage Light
A lightening fast and simple to use mileage accounting application for Android mobile devises. It does what you need it to do, and doesn't extend your pitstop unnecessary. The data entered are stored in a .csv file accessible when the device is mounted as a disc drive, so if you need further statistics you can generate them in Excel or the like.
How it was done
The application is developed in Java using eclipse, the ADT plugin and the Android SDK
Requirements
An Android based mobile :-)
Installation
Search for "Mileage Light" on the
Android Market
, and install it from there
(it's free :-) ).
The history of Mileage Light:
| | | |
| --- | --- | --- |
| date | version | changes |
| 11.03.15 | 1.0.1 | First version for public release. |